---
Lampadati Viseris Out Now Plus Double GTA$ & RP on Lester Contact Missions - UMADBRO_OKAY - 01-09-2018



Lampadati Viseris Out Now Plus Double GTA$ & RP on Lester Contact Missions




We'd like to salute the population of Los Santos and Blaine County for another banner year of civic mayhem. From wild Special Vehicle Circuit and Transform Races, to illicit new revenue opportunities for your Organization in Gunrunning and Smuggler's Run, to saving the world with your crew in The Doomsday Heist, and so much more – 2017 was the biggest year of GTA Online yet, capped off by an epic December that saw more players in the game than ever before.


Thank you to all dedicated GTA Online players worldwide – and we've got more treats in store for you all in the weeks ahead including new modes to experience, and vehicles to collect and race – starting with a new beast unleashed today…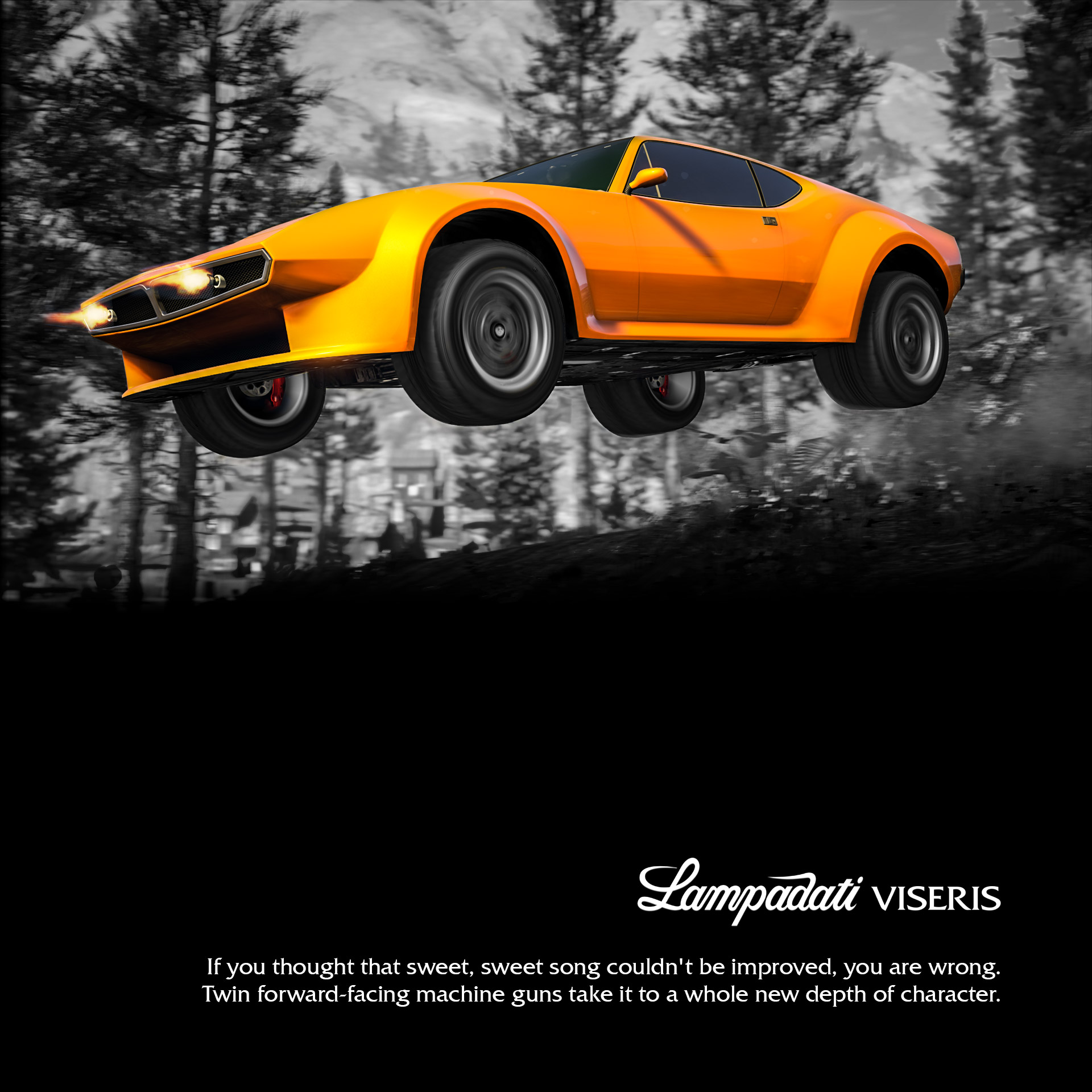 LAMPADATI VISERIS NOW AVAILABLE
Smooth handling, chiseled good looks and salt-of the-earth engineering are all part of the allure of the

Lampadati Viseris

, now available at 

Legendary Motorsport

. More than just a pretty face, the unmistakable roar of its barbaric V8 engine might just be the sweetest sound in Los Santos. Add a whole new depth of character to this charming but deadly Sports Classic with a quick trip to the Vehicle Workshop in your MOC or Avenger, where you'll be greeted with the option to mount a pair of forward-facing machine guns.

DOUBLE GTA$ & RP ON LESTER CONTACT MISSIONS
Already busy frantically offering up work with The Doomsday Heist, Lester Crest continues to make a case for being your favorite contact with 

Double GTA$ & RP on ALL Lester Contact Mission

s. Through January 15th, look out for calls from Mr. Crest on your iFruit and earn twice your usual rate.

LAND & AIR SAVINGS
Look out for discounts both on the ground and in the sky this week, with 

25% off

 the following through January 15th:
Nagasaki Ultralight (Plane)

Aircraft Weapons

Vehicle Armor

Headlights & Neons

Skirts

Spoilers

Suspension

Turbos

PREMIUM RACE & TIME TRIAL SCHEDULE
Ride your way to riches with this week's Premium Race and Time Trial. Through January 15th:
Premium Stunt Race 

– "Island Hopping" Locked to Blazer Aqua


Time Trial 

– "Maze Bank Arena"

Launch Premium Races through the Quick Job App on your in-game phone or via the yellow corona at Legion Square. The top three finishers will earn GTA$ and you'll get Triple RP regardless of where you place. To take a shot at the Time Trial, set a waypoint to the marker on your in-game map and enter via the purple corona. Beat par time and you'll be duly rewarded with GTA$ & RP.


---