07-28-2017, 04:10 PM
Game:
 Grand Theft Auto V
Platform:
 PC
Date:
 Sat. 07/29/17
Time:
 11:00am, Denver Time
Time Conversion Link:
Click Here
Schedule:
 MK2 Gun Show!  then other game modes and such!  Woo!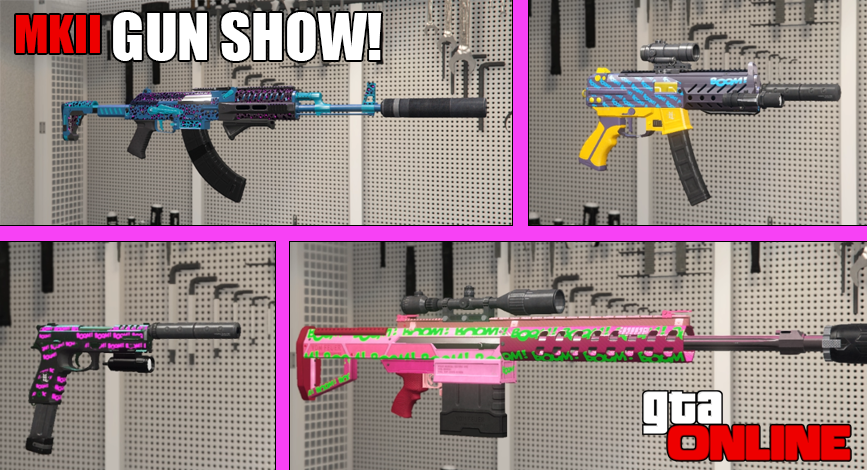 PLEASE READ: 
Rules:
1) Listen to the host, admins and moderators.
2) Don't troll.
3) Don't keep asking for things, like asking to be the crook.
4)
You MUST join teamspeak3 in order to join!  You do not have to speak, but you must be able to listen!  The teamspeak IP is: 45.58.117.147:9993
5) Be a Raccoon or any other animal! XD
PLEASE BE CONSIDERATE ON TEAMSPEAK!  DO NOT SING, DO NOT WHISTLE, DO NOT BELCH, BURP AND DO NOT TALK OVER PEOPLE!
You are expected to read and obey
these rules
.
Gun show directions:
1) You MUST bring any MKII weapon to the gun show!  No other weapons allowed!
2) When it's your turn to present, tell us a bit about your gun.  Why you decorated it as you did, what you use it for, any history behind it, what kind of ammo you use, etc..  Make shit up, be silly, but don't talk for too long!
3) After you speak, i'll ask you to take a few shots into the targets in front of you.  
4) If you do this properly, you get to live!  If not, my assistant will STAB YOU!
5) Stay in your place the whole time.  DO NOT FOLLOW ME AROUND AFTER YOUR TURN IS OVER!
Sign up with your Social Club username:
01. gtamishuns
02. RamtinBaharloo
03. DrDerpMan
04. NEAKSY
05. LipFi333
06. UMADBRO_OKAY
07. Mad_Dog100
08. oreofoxadjule
09. Dreper400
10. iTzFyre_
11. Petko_xd
12. shodan321 
13. Mike15_000
14. AustenGaming
15. CoasterGaming
16. XxTheDemonWolfxX
17. DjChatters
18. tpleb_
19. Leopard.Gaming
20. Divock5
21. strater1
22. braingame49 
23. ericgta4678
24. Daequil
25. MauriceZockt
26. Hrishi222
27. Thunder0010
28. lionek98
29. Doctor_Fruitbat
30. jordiewillsolvit
31. Lsclub
32. GTAevents123
33. BJsuksdik
34. shiron2015