10-30-2017, 03:09 PM (This post was last modified: 11-03-2017, 10:27 PM by Leopard.Gaming. Edit Reason: sign ups )
Game:
 GTA V Online
Platform:
 PC
Date:
 Friday, November 3rd, 2017
Time:
 18:30 UK Time
Time Conversion Link:
Click Here
Schedule: 
Helicopter Meet-up to get everyone in a session. Random jobs, BUSTED, *An Off-roading Adventure. 
*WE WILL BE DOING AN OFF-ROADING ADVENTURE. YOU MUST HAVE A SANDKING OR DUBSTA 6X6 WITH STANDARD SUSPENSION. NOT HAVING ONE OF THESE WILL NOT ENABLE YOU TO FINISH THE COURSE, AND DIE.
THE WASTELANDER IS NOT ALLOWED UNLESS SPECIFIED OTHERWISE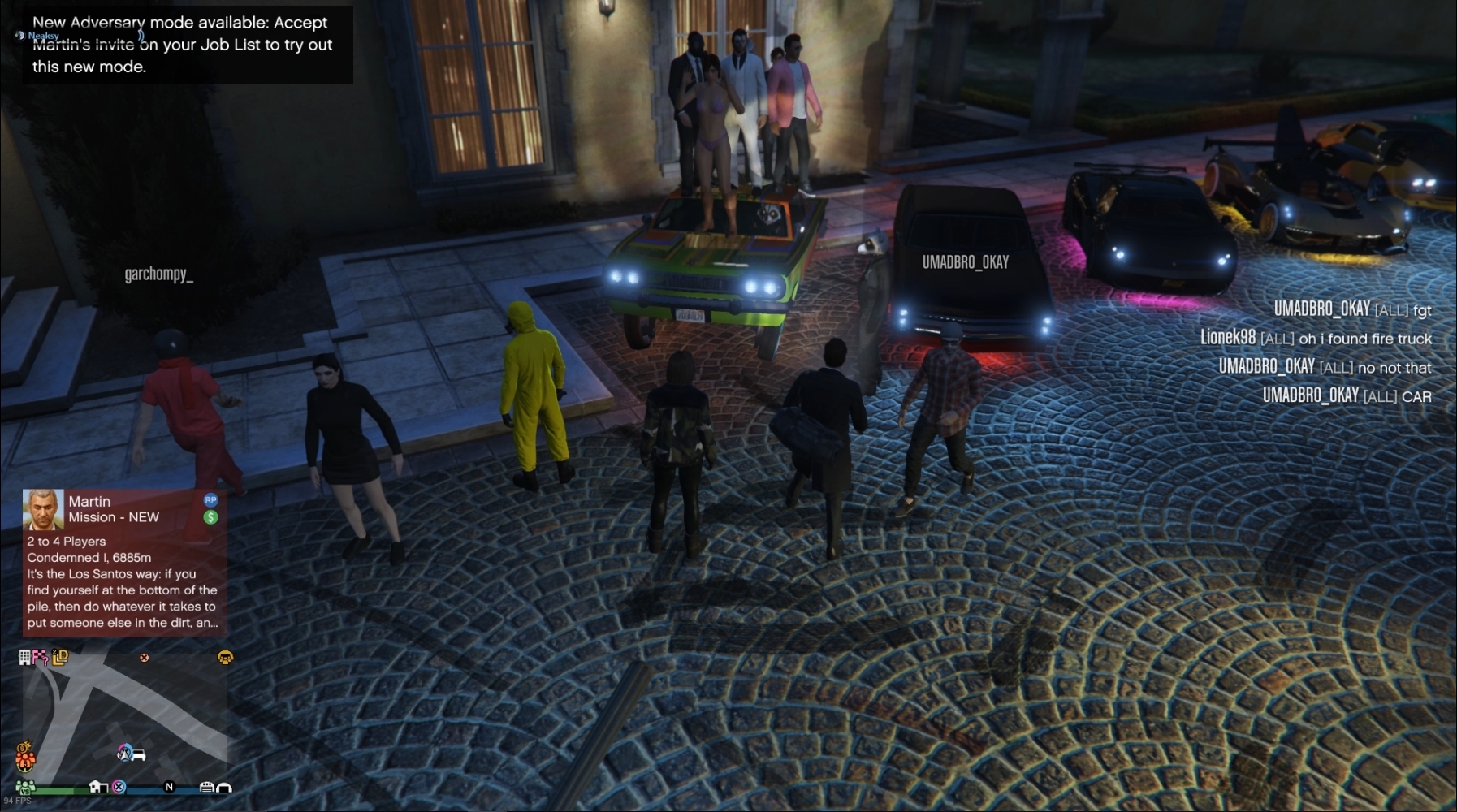 Rules:
1) Make sure you read everything in this post. If you cant read, then please ask someone for help.
2) Listen to the host, admins and moderators!
3) Don't Troll in any gamemodes and Don't be inconsiderate (Loud or talking over people) on TeamSpeak
4) Please make sure you are on TeamSpeak: 45.58.117.147:9993
5) Your TeamSpeak must be working before you join the event, if you are having trouble please ask a staff member or me!
6) No asking to be a crook, you will not be liked (Except staff) 
You are expected to read and obey 
these rules
 and 
gamemode specific rules
.
If you want me to host a certain map/gamemode then send me a PM with a link to the social club map
For this event participants can request for some jobs which they want to do as a group, such as Duck hunt or a death run- if you request for something you must have this map bookmarked!!!!

Sign Up with your social club name to be added:
01: Leopard.Gaming (Host)
02: Rosastar1991 (co-host/Lovely Assistant)
03: H20
[Added]
04: UMADBRO_OKAY 
[Added]
05: FarinStonehammer 
[Added]
06: JosephTimothy
[Added]
07: CookedPorkchop13 
[Added]
08: JUSTINKILLZ4FUN 
[Added]
09: Randoom 
[Added]
10: Valy 
[Added]
11: BrorsanP2 
[Added]
12: Thunder0010 
[Added]
13: KaspLB-_- 
[Added]
14: Linckel 
[Added]
15: Qusaqa 
[Added]
16: Nico_1258 
[Accept friend request]
17: Strater1 
[Added]
18: Skiman1290 
[Added]
19: D3rKurt 
[Added]
20: LolzFepaa 
[Added]
21: Bluefox150630 
[Added]
22: Lipfi333 
[Added]
23: Mad_Dog100 
[Added]
24: Siser2212 
[Added]
25: Miksacool_ 
[Added]
26: Sir.Valentin0 
[Accept friend request]
27: 
Will0wplayz 

[Added]
28: Ommeskjern 
[Accept friend request]
29: Dekwadoes 
[Added]
30: Kenny09Killer 
[Added]
31: Kenny09Killer
[Added]
32: Lionel99
[Added]
33: VendettaFalcon
[Added]
34: NotGreatAtGaming 
[Accept friend request]
35: MustacheLT 
[Added]
36: FunkeyMonkey 
[Added]
37: TheFeltzer 
[Added]